Employee Engagement Consultancy
Your leaders are key to cascading engagement through to the front-line. We equip leaders with the tools, techniques and the confidence to realise their potential and deliver sustained performance improvement.
team engagement challenges
Our few-to-many engagement framework that enables leaders to cascade regular engagement to front-line employees.
Challenges can be deployed to deliver focussed, 2-way communication and performance improvement throughout an organisation.
Team leaders are trained and equipped with resources to deliver engaging training to their team. Results are measured on Action plans and shared with peers so they can be compared and critiqued.
Team challenges are our tried and tested framework for engagement; enabling many organisations to see a real performance improvement.
invigor8 Winning Performance Centre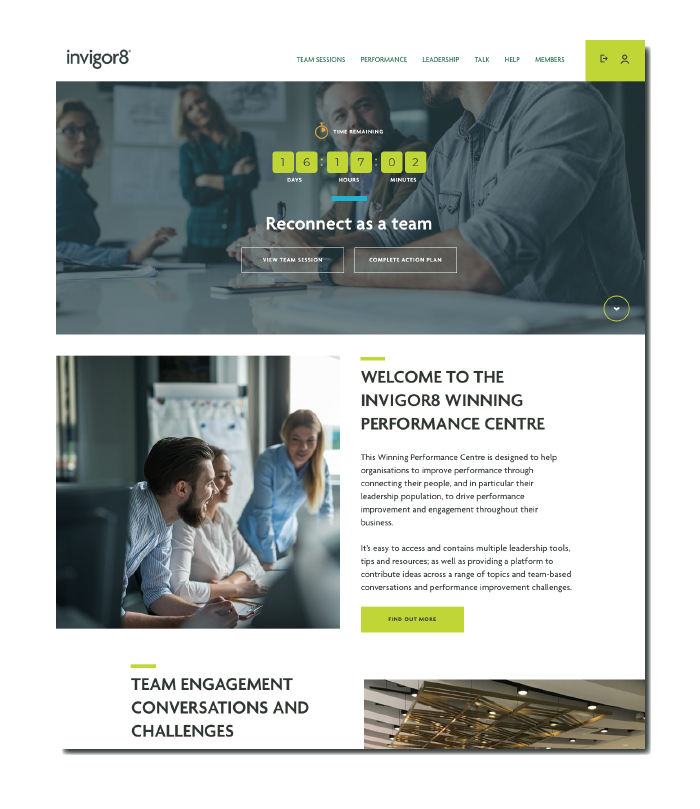 The 'WPC' helps organisations to lead and perform like never before. It is one place for critical business engagement and communications between leaders; developed from years of our employee engagement expertise, in what it takes to build highly engaged, successful teams. 
Drive engagement by equipping leaders with the tools and coaching techniques they need to engage with their teams about critical business issues.
Inspire leaders by providing a channel for execs to deliver strategic communications directly to fellow leaders and facilitate discussion.
Connecting people to strategic priorities; inspiring them in the big picture.
Contact us for a demonstration of the WPC and for information about how it can be deployed for your organisation.  
leadership and coaching
Our employee engagement consultancy help to advise, coach and equip senior leaders to focus, align and engage their people to deliver the business mission and strategic plan:
Crisp up your Why, What and How in to clear believable message. Back this up with the right, believable leadership behaviours so that you promote your plans at each formal and informal touchpoint, avoiding unconscious sabotage.
Our employee engagement consulting and coaching team offer C-Suite workshops, one on one coaching, and tools to help your equip leaders through the line to create high performing teams. In the new world, we can do all of this on-line, supported by our Winning Performance Centre and a suite of Leadership Resources to address a wide range of topics and challenges.