customer service culture
Elevate your service beyond the competition through developing your people. We work with businesses who have the ambition to be the best service provider in their sector; creating engagement programmes that enable colleagues to learn how they can make the difference.
Service improvement through behaviour change
We can make your service ambition become a reality. From retail to merchanting or catering, our behavioural change programmes deliver a significant improvement in service performance; leading to increased sales and greater customer loyalty.
Our interventions centre around your people. We develop engagement activities, tools and techniques that enable colleagues to perform at their best with customers day in, day out.
Delivering a competitive service advantage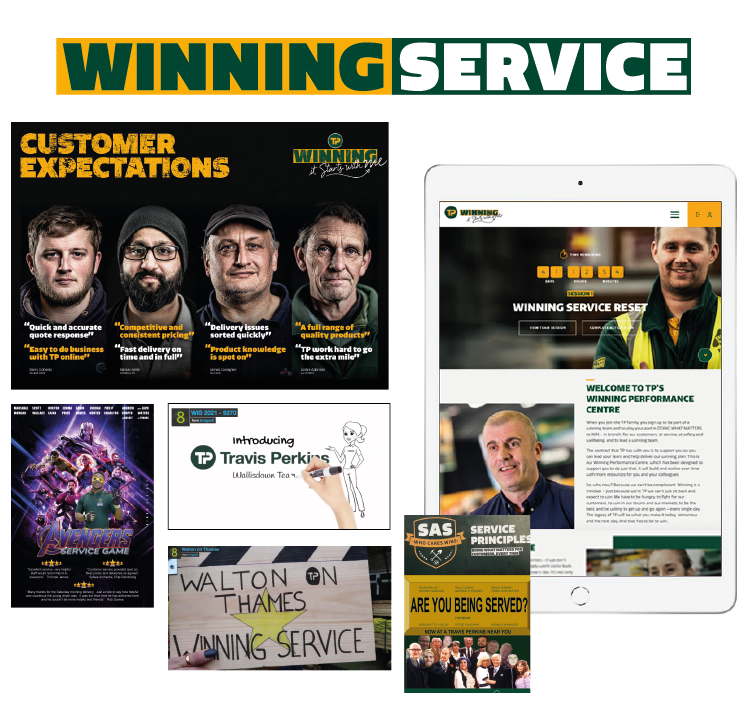 What does it take to win at service? It starts with a clear and determined ambition, supported by leaders who will drive a strong service culture.
We help to set the tone at the top and develop the business case, including:
top team alignment
compelling messaging (reasons to believe)
integration with wider strategic priorities
customer pain points
moments of truth mapping
team-based activity and engagement
Core service standards
For organisations that need to establish a base-line service offer, we develop core service standards that can be tailored to each organisation's needs.
Core standards can be hard to maintain. Our interventions enable colleagues to self-learn to the required level through activity cards and scenarios.
Their manager can monitor progress and easily address gaps by asking their team to repeat activities on demand. All supported by digital or printed materials for hard to reach teams.